How do core concepts map to Tenzo?
Key: ✅ Supported 🚸 Work in Progress ❌ Not Supported
Location

✅

Outlet

Order Type

✅ Order Type

Revenue Center

✅ ClientTenants (POS/ Express Licenses)

Product Item

✅ Product

Product Category

✅ Product Group

Employee

✅ TenantUser

Customer

❌ NOT SUPPORTED

Discount (Names)

✅ Discount

TicketItemDiscounts (Amounts)

✅ Discounts

TicketDiscounts (Amounts)

❌ Spread over items (ticket level automatically applied to item level)

TicketItemModifiers

✅ Modifications

Guest Count

❌ NOT SUPPORTED

Ticket Voids

✅ Payment Status

Ticket Item Voids

❌ NOT SUPPORTED

Service Charge

✅ Service Charge

Tips

✅ Tips

Data Ingestion
| | |
| --- | --- |
| Real-time optionally available? | ✅ |
| Default polling frequency | Every 4 hours |
| Data retrieved on each poll | Today and yesterday |
| Historical data | All data since beginning of Ancon POS |
| Data received per day or continuous | Continuous |

How do I connect this data to Tenzo?
Ancon can be connected directly inside of the Tenzo app.
If you have an Enterprise account, you can talk to your Customer Success Manager and they will connect this for you.
How do I compare Ancon data to data in Tenzo?
Within Ancon per outlet you can go to the 'Reports' section and click on 'Z-Report' to get an overview on a day by day basis.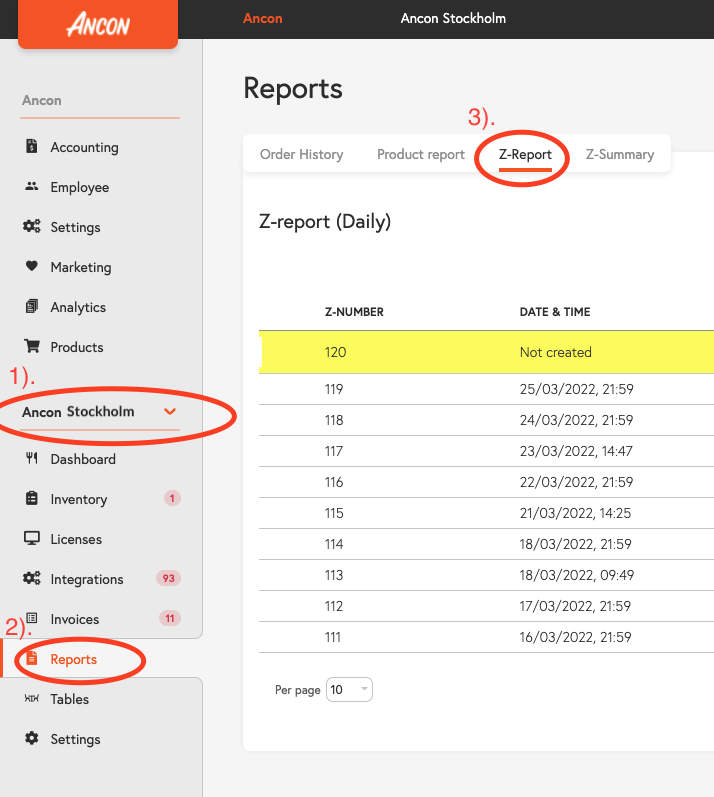 The highlighted box indicates the gross total for that day's sales. This can be compared with Tenzo in the Sales module under Location and choosing a single day to compare to.
Note: A Z-report is generated for the time period elapsing from the previous generation of the report. However Tenzo shows daily sales. Therefore you need to make sure that the Z-report is displaying the same day as Tenzo (e.g. a report generated in the morning of Monday may be showing Sunday's sales).
Exceptions

Discount names currently show as 'Not Available'.
#integrations