What does the attachment KPI show me?
Attachment is a measure of the popularity of a product division, category or Item and is presented as a % [of Attachment]. This measure tells you how often an item, category or division appear on a transaction for your chosen date range.


The % attachment shows how often an item is sold and allows you to identify the popular product you sell as well as unpopular items that are not selling as well. This provides you with the ability to decide either to change your menu or the opportunity for your front of house team to upsell more of certain items.
For example, in the image below, 10% of all transactions on 23rd November included a coke but only 9.1% included a latte: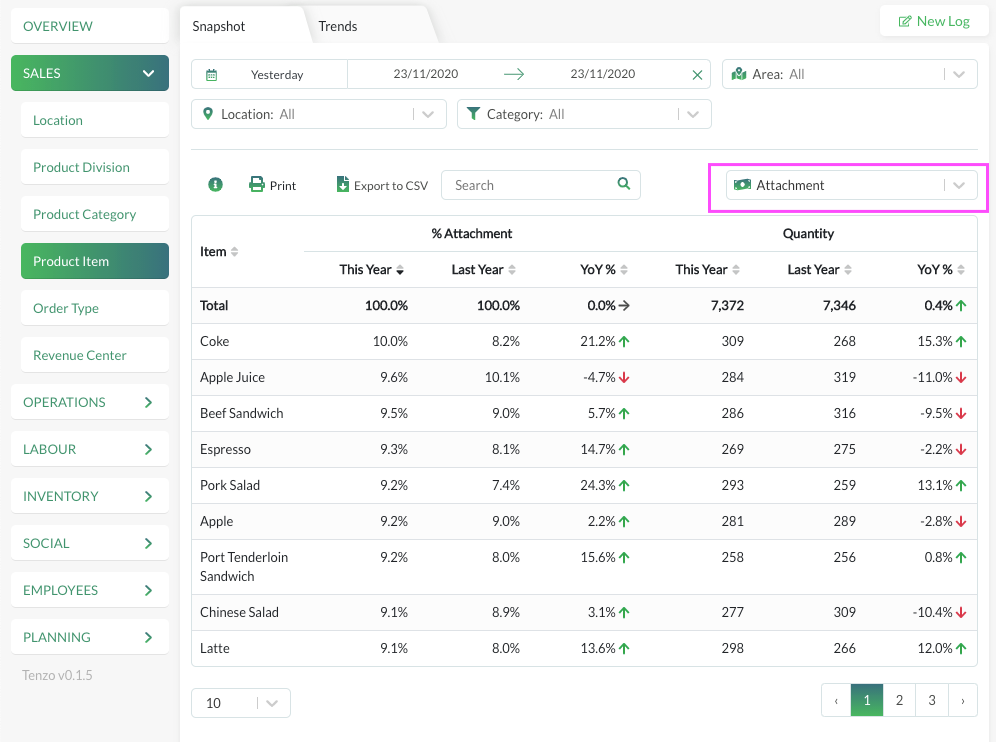 Employee Incentive Programmes
It's possible via the Employee Dashboard in Tenzo to track how often employees are selling different product items by looking at the % attachment for a product item per employee.
In the table below, for example, you can see that from the 1st to the 9th of May, Samuel sold a Latte in 21.6% of all of his transactions, while Arthur only sold it in 12.7% of his transactions.
Using employee product item % attachment data in Tenzo, you could, for example, provide a bonus for the member of the team who has the highest % attachment of a certain product item in a week.
Alternatively, you could run this competition between stores using the % attachment of a product Item at a location level by using the Tenzo Sale Module.
You can read this article to know more about the difference between Sales Mix and Attachment.
If you've got any further questions about % attachment then feel free to contact the Tenzo support team: support@gotenzo.com
#data #sales