Tenzo's integration with Inventory Management Systems lets you track and manage your use of inventory items, which are one of the largest costs for hospitality businesses alongside rent & rates and labour.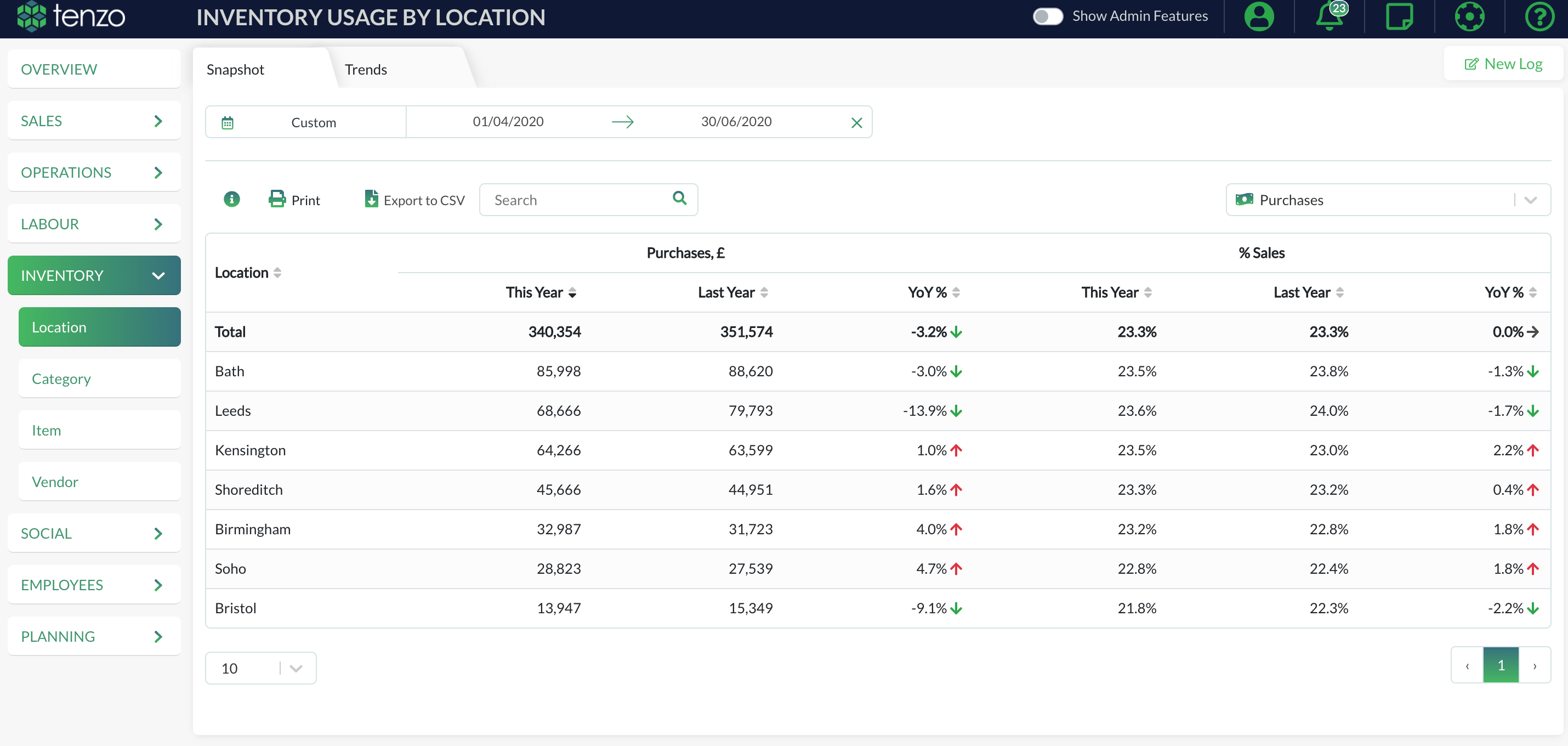 Stocks checks matter
In order to maximise the value of the reporting you can achieve from your inventory system and supporting analytics platforms such as Tenzo, you need a consistent weekly stock check process. This provides consistent week on week inventory usage data that will increase the accuracy of your inventory reporting.
Most customers choose to do stock counts outside of core business hours either at the very end or the start of their week. Once you've planned your operational stock check processes your inventory reporting should be scheduled to happen on a weekly basis after stock counts have been closed.
Inventory KPIs that you should be looking at
Cost of Goods Sold (COGS)
Understanding your COGS, cost of all your inventory items that you sold within a defined period of time, drives decision making about your menu such as:
Which items you want to continue to sell,

Whether you need to raise or lower prices and

How much inventory you want to keep in stock at any time.
To calculate your COGS you will need to have an inventory count for the item(s) sold at the start and end of the period you are looking at, information on all purchase made and any items transferred to a different store within the period of time and the cost of the item(s).
Tenzo COGS Calculation =
(Opening Inventory Count quantity + Purchases quantity + Transfers In quantity - Transfers Out quantity - Closing Inventory Count quantity ) x item cost
A smaller COGS number usually means a larger profit margin for your restaurant. It's in your best interest to investigate what the optimal COGS level is for your business without impacting the quality of your offering to your customers.
Below is an example of a flash profit and loss insight that can be created in Tenzo: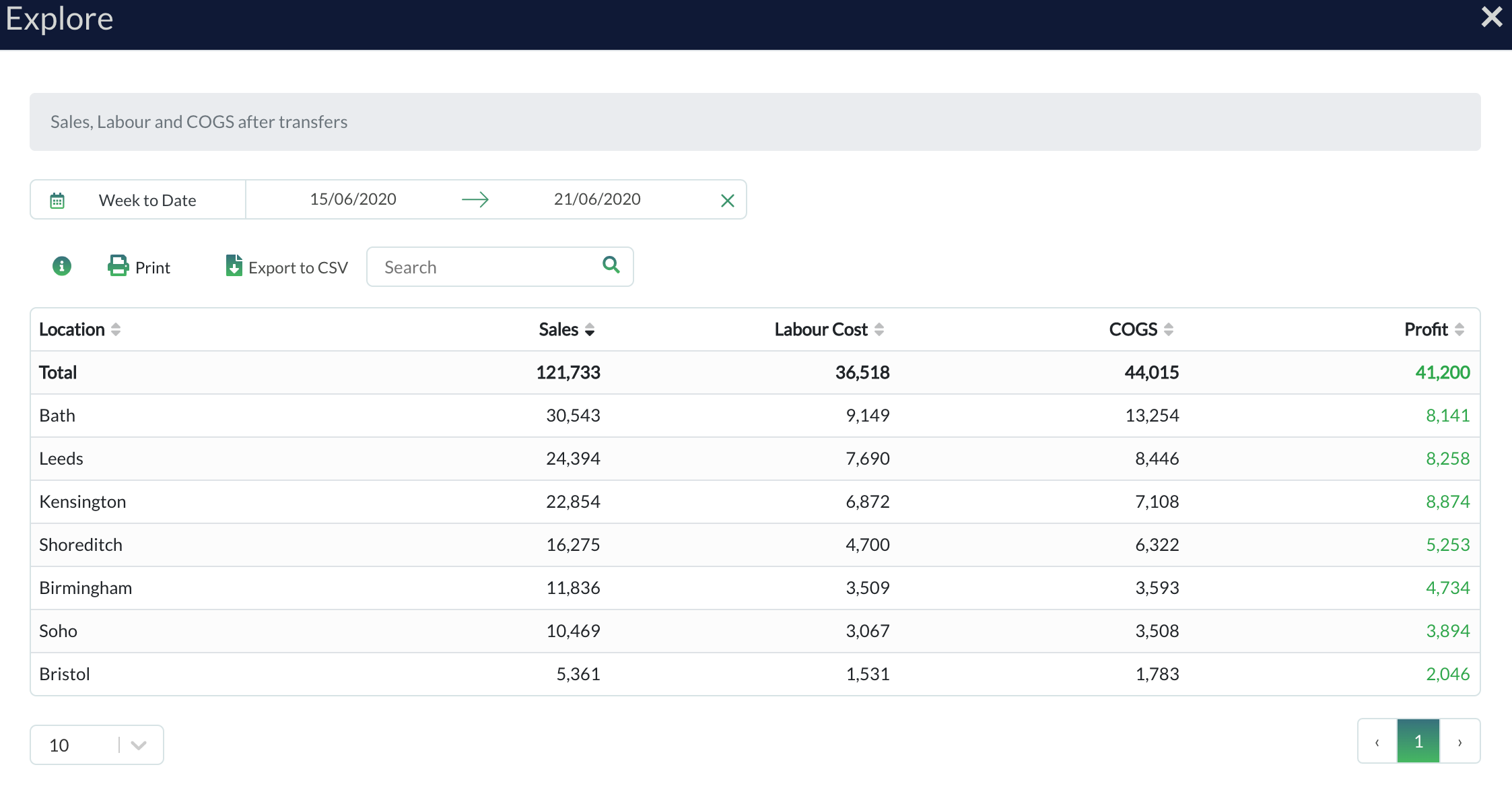 Inventory Variance
Tracking the variance of your inventory is critical to understand your usage. This will help you identify opportunities for reducing food waste, changing production processes in your kitchen, or reviewing your recipes.
When calculating your inventory variance you will need to know your Actual Usage and Theoretical Usage:
Actual usage is the total cost of an inventory item that was used within a defined period of time.

= (Opening Inventory Count quantity + Purchases quantity + Transfers In quantity - Transfers Out quantity - Closing Inventory Count quantity ) x item cost



Theoretical usage is how much of an inventory item should have been used if a recipe had been followed exactly and there was no waste of the item.
= (Menu items sold x item quantity in the recipe

) x item cost
The inventory variance calculation, also known as your Actual v Theoretical or AvT, helps you identify where you are using more or less of an inventory item then you had planned to.
Inventory Variance Calculation =
((Actual Usage - Theoretical Usage) / Theoretical Usage) * 100
For example: Coffee Beans ((600-500)/500)*100 = 20%
Therefore, you used 20% more coffee beans than you theoretically thought you should for the orders you fulfilled.
In Tenzo you will see:
A red variance arrow for positive variances where you used more than theoretically planned; and

A green variance arrow for negative variances where you used less than theoretically planned as we assume in most instances that this is a good thing (although we know there can be exceptions!)
Below is an example of an insight in Tenzo showing Inventory Variance by inventory item category.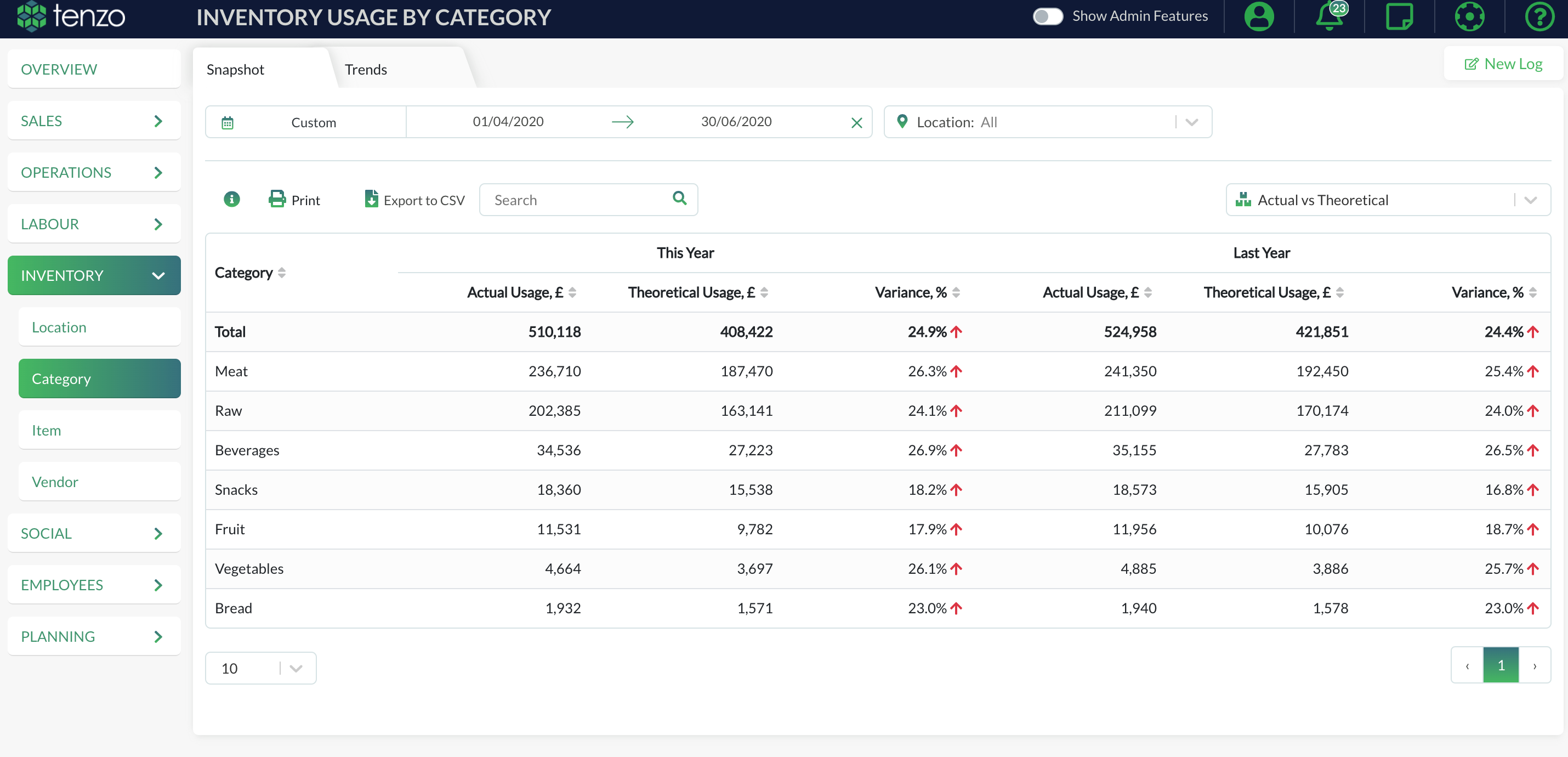 Wastage
Creating waste is unavoidable, so understanding where in your operational processes you are wasting your inventory is vital to combating this.
Looking at an item level to see what was recorded as waste and unrecorded usage can help conversations with teams around how you as an organisation can reduce your waste. You can see below an example of the insights around waste available to view in Tenzo.
Looking at wastage as a % of purchases, for example, you can also see where you are over-ordering.
For more suggestions on how to set targets to reduce waste and empowering your teams to own these initiatives, please check out our blog here.
Accessing inventory insights
Using Tenzo you can define the inventory KPIs that you want to see when you log into Tenzo along with automated reporting to accompany this. As a best practice we often see Operational Teams are given one or two COGS focused KPIs whilst Head Office and Finance Teams often have more detailed insights to review including for example:
Total purchase costs broken down by vendor;

Inventory variance by different menu items; and

A flash Profit and Loss view combining sales with COGS and labour costs to track profitability on an ongoing weekly basis.
As well as defining your dashboard and reports, within Tenzo you can of course also dig into your inventory data to understand underlying trends.
Below shows the Inventory Variance, (Actual v Theoretical Usage) over a four-month period with an underlying positive trend.
If you have any further questions on the Tenzo Inventory module please submit a request using the button at the top right hand of this page and one of our team will be in touch.
#inventory #integrations #data
*Please note that the insights that you can access in Tenzo may be limited based on the Inventory Management System that you use. For more information please ask your Customer Success Manager.